All review...
---
Top Rated Bass Casting Rods
Posted by Sam Law (2/23/2023)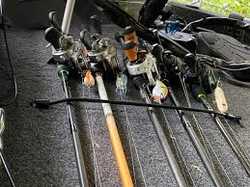 Bass casting rods are designed specifically for bass fishing using baitcasting reels. Here are some key features of bass casting rods:
Power: Bass casting rods come in different power ratings, which indicate how much force is required to bend the rod. Power ratings range from ultra-light to heavy, with most bass casting rods falling within the medium to heavy range.
Action: The action of a rod describes how much it flexes and where along the blank that flex occurs. Bass casting rods typically have a fast action, which means they flex near the tip of the rod. This provides greater sensitivity and faster hook sets.
Length: Bass casting rods typically range in length from 6 to 8 feet. Longer rods provide greater casting distance, while shorter rods offer greater accuracy.
Material: Bass casting rods are typically made of graphite or composite materials, which are lightweight and sensitive. Higher-end rods may be made of materials like high-modulus graphite, which provide even greater sensitivity and strength.
Guides: The guides on a bass casting rod are designed to help control the line as it travels through the rod. They are typically made of materials like ceramic or stainless steel and are placed along the length of the rod to provide a smooth path for the line.
Handle: The handle of a bass casting rod is designed to provide comfort and grip while fishing. Handles can be made of cork, foam, or rubber, and may feature additional components like reel seats and butt caps.
Top 5 Casting Rods
St. Croix Mojo

The St. Croix Mojo Bass Casting Rods, including the MJC model, have received generally positive reviews from anglers. Here are some of the key features and feedback for the MJC model:
Features: The MJC model is a medium-power, fast-action rod, designed for a variety of bass fishing techniques, including flipping, pitching, and casting jigs. It is constructed with St. Croix's high-quality SCIII graphite, which provides sensitivity and strength without adding extra weight to the rod. The MJC model features a split-grip cork handle, which provides comfort and control during long fishing sessions. It also has Fuji reel seats and guides, which are high-quality components that ensure smooth line flow and durability.
Feedback: Anglers appreciate the sensitivity and responsiveness of the MJC rod, which allows them to feel even the slightest bites and make precise casts. The fast action of the rod allows for quick hook sets, which is important for catching bass. The cork handle is comfortable and easy to grip, making it a good choice for long fishing days. Some anglers note that the medium power rating may not be sufficient for very heavy cover or larger fish species. Overall, the St. Croix Mojo Bass Casting Rod MJC model is a well-regarded option for anglers looking for a versatile, high-quality bass casting rod.
Lew's KVD IM8

Designed by the most dominant angler in professional bass fishing history, Kevin VanDam, the Lew's KVD Casting Rods deliver technique specific actions and tapers that are tuned to KVD's exact specifications. Built using premium IM8 graphite blanks and EVA split grips, the Lew's KVD Casting Rods provide the perfect balance of sensitivity, strength, and lightweight performance to give anglers rods that are ideal for any scenario on the water. They also feature a proprietary Full Contact reel seat that increases contact with the blank to transmit more vibration into your hand for enhanced sensitivity.
To improve efficiency, the Lew's KVD Casting Rods are equipped with a patented No Foul Hook Keeper to keep your baits secured during transport and eliminate wasted casts or line fouling issues like other hook keepers. Finished with stainless steel guide frames and aluminum oxide inserts for improved balance, the Lew's KVD Casting Rods deliver tour-level performance that simply outshines the competition.
Dobyns Rods Fury Series

The Dobyns Rods Fury Series Casting Fishing Rod is a highly rated option among anglers who want a high-quality, sensitive rod at a reasonable price point. Here are some general points based on customer reviews and expert opinions:
Firstly, the Dobyns Rods Fury Series Casting Fishing Rod is made from high-quality materials, including high modulus graphite, Kevlar wrapping, and AA cork handles. The rod features Fuji reel seats and Kigan guides, which provide excellent sensitivity and casting accuracy.
Customers appreciate the sensitivity of this rod, which allows them to feel even the slightest bites. The rod is also said to have a fast action and a strong backbone, making it ideal for fishing with heavier lures and targeting larger species such as bass, pike, and musky.
According to expert reviews, the Dobyns Rods Fury Series Casting Fishing Rod is a great choice for anglers who want a high-quality rod that is both sensitive and powerful. The rod is said to have a well-balanced feel and comfortable grip, making it easy to handle for extended periods of time.
Overall, the Dobyns Rods Fury Series Casting Fishing Rod is a well-regarded choice among anglers who want a high-quality, sensitive rod for accurate casting and precise fish control, but also want a good value for their money
Duckett Micro Magic Pro

Staying true to their pro driven philosophy, the new and improved Duckett Micro Magic Pro Casting Rods offer the same winning actions and performance of the originals - now with some key improvements.
Designed on the Micro Guide Concept for an overall lighter rod, as well as, significantly improved casting distance and accuracy, the micro guides also offer a substantial improvement in balance and sensitivity. The new proprietary 0.7mm Artus High Gauge 316SS Ring Lock Micro Guides with hyper-lite braid-proof inserts deliver increased durability, and also feature a new double-foot elevated stripper guide that adds additional strength and facilitates a smoother transition of the line from the reel for increased casting distance and accuracy.
Advanced Sensi-Touch blanks made from the highest quality multi-modulus pre-pegs create an extremely lightweight and durable rod, and each blank is also halo-sanded for increased strength and improved sensitivity. The team at Duckett Rods also painstakingly balanced each rod in the series. Balancing a rod correctly makes the tip lighter, and therefore allows the rod position to be more easily displaced - translating into increased sensitivity. Comfort grip Fuji reel seats form a lightweight, ergonomic base for your reel, and premium cork grips deliver all day comfort. Back and better than ever, the Duckett Micro Magic Pro Casting Rods have what it takes for serious tournament fishing.
Shimano Zodias

Redesigned and even better than before, the Shimano Zodias Casting Rods deliver tournament caliber performance for the most discerning anglers. Featuring proven Hi-Power X blank construction, the Shimano Zodias Casting Rods resist blank twisting and ovalization, which creates more accurate casting, greater strength, and excellent sensitivity. The new Zodias series also features a Carbon Monocoque handle that is mated with a CI4+ reel seat, which provides an uninterrupted connection between bait and angler for increased sensitivity.
Premium Fuji Alconite K Semi-Micro Guides and a Fuji SiC tip help reduce weight and also provide many of the benefits of micro guides, while still allowing knots to pass through unimpeded. Available in actions and tapers that have been designed to facilitate maximum casting distance and accuracy, while also providing the optimal action to your lures, the Shimano Zodias Casting Rods deliver versatility that can handle any situation you encounter on the water.
| Brand | Model | Length | Power | Action | Price |
| --- | --- | --- | --- | --- | --- |
| St. Croix | Mojo, MJC | 7'1" | Medium Heavy | Fast | $150.00 |
| Lew's | KVD IM8 | 6'8" | Medium Light | Moderate | $109.95 |
| Dobyns | Fury | 7'3" | Medium Heavy | Fast | $129.99 |
| Duckett | Micro Magic Pro | 7' | Medium Heavy | Fast | $148.99 |
| Shimano | Zodias | 7'2" | Medium Heavy | Fast | $219.99 |
Liked this article? Share it: