All review...
---
Deeper Sonar Chirp 2 Review 2023
Posted by Andrew Law (5/25/2023)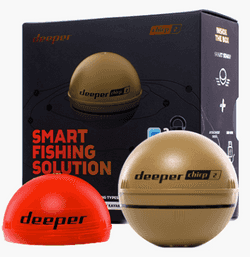 As an avid angler always on the lookout for innovative fishing gear, I recently had the opportunity to test the Deeper Sonar CHIRP 2, a portable fish finder that promised to enhance my fishing experience. In this comprehensive user review, I will share my thoughts on the device's design, performance, features, and overall value, shedding light on why it has become an essential tool in my fishing arsenal.
Design and Portability: The Deeper Sonar CHIRP 2 excels in terms of design and portability. The compact and lightweight build makes it incredibly easy to carry and store, making it an ideal companion for fishing trips. The device features a durable construction, with a robust outer shell that can withstand the rigors of outdoor use. Its sleek design and ergonomic shape ensure a comfortable grip, and the simple button layout makes it intuitive to operate even for beginners.
Sonar Performance: The standout feature of the Deeper Sonar CHIRP 2 is its advanced CHIRP sonar technology. This technology provides incredibly detailed and accurate underwater imaging, surpassing the capabilities of traditional single-frequency sonar systems. The CHIRP transducer emits a range of frequencies, resulting in better target separation, enhanced target identification, and a clearer representation of the underwater landscape. Whether I was scanning for fish, observing structures, or checking bottom contours, the CHIRP 2 delivered exceptional sonar performance.
Wireless Connectivity and Versatility: One of the key advantages of the Deeper Sonar CHIRP 2 is its wireless connectivity. The device syncs seamlessly with smartphones and tablets via Wi-Fi, transforming them into interactive displays. By using the dedicated Deeper app, I was able to access a wealth of features and information, including detailed sonar readings, GPS mapping, depth tracking, and more. The wireless connection offered an impressive range, allowing me to explore vast fishing areas without limitations.
GPS Mapping and Navigation: The Deeper Sonar CHIRP 2 also impressed with its integrated GPS capabilities. The app provided accurate real-time mapping, allowing me to mark waypoints, create custom maps, and track my fishing route. The ability to review and analyze my fishing spots later was invaluable in planning future trips. The GPS functionality, combined with the sonar data, provided a comprehensive view of the underwater environment, helping me make informed decisions and improve my fishing strategy.
Battery Life and Charging: The device's battery life was impressive, providing ample usage time on a single charge. I was able to fish for extended periods without worrying about running out of power. The CHIRP 2 features a convenient charging system, and the battery charges relatively quickly, minimizing downtime. The ability to charge it via USB also added to its versatility, as I could easily connect it to power banks or car chargers when needed.
Value for Money: Considering its performance and versatility, the Deeper Sonar CHIRP 2 offers excellent value for money. It provides advanced sonar technology and GPS mapping capabilities in a compact and portable package. The wireless connectivity and user-friendly app elevate the fishing experience, allowing anglers to access vital information at their fingertips. Whether you're fishing from a boat, kayak, or the shore, the CHIRP 2 empowers you to find and catch more fish, making it a worthwhile investment for any angler.
Conclusion: The Deeper Sonar CHIRP 2 has proven to be an exceptional portable fish finder that revolutionizes the way anglers explore and understand the underwater world. Its compact design, powerful CHIRP sonar technology, wireless connectivity, and integrated GPS mapping make it a must-have tool for both seasoned and novice. This is their top of the line product. This one of the most effective products for up-ing your bank fishing success!
Liked this article? Share it: