All review...
---
Garmin UHD Fishfinder ChartPlotter 73sv 93sv Product Review
Posted by Andrew Law (4/22/2021)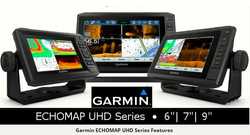 This review will cover ALL Garmin UHD Fishfinder Chartplotter products. I will explain all model #s and naming conventions for this product as well as breakdown how to properly shop for Fisherfinder products including what to look for.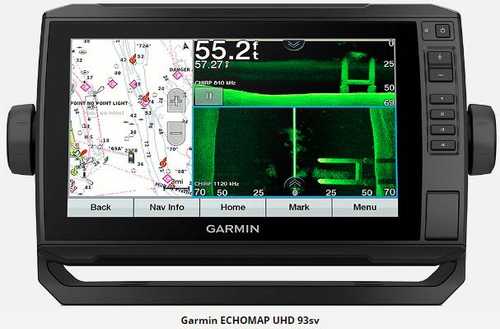 Specs of Garmin UHD:
7" or 9" Color Touch & Button Screen
ChartPlotter & FishFinder with 5Hz Built-in GPS
500W Chirp Sonar, UHD ClearVU sonar, & UHD SideVU
Support for Garmin Force Trolling Motor & LiveScope Panoptix Sonar
Included LakeVU g3 with navionics access for SIM card slot ($199 value)
Quickdraw contours functionality for realtime lake mapping
WiFi and Bluetooth connectivity
Automatic Sunlight adjusting brightness giving good visibility in direct sunlight
Quick-release mount means not having to unplug connections. Makes for easy security
conscious storage.
| | Frequencies Supported |
| --- | --- |
| CHIRP Traditional Sonar | 50, 77, 83, or 200 kHz |
| UHD SideVü CHIRP | 260/455/800kHz |
| UHD ClearVü CHIRP | 260/455/800/1200kHz |
This 9" unit with the GT56UHD-TM transducer retails for $1100. Without the transducer it retails for $900. The 7" retails for $1000 with the same model transducer and $800 without it.
Before we Dive into the UHD itself, it is important to understand the product line differences that Garmin offers. They have 2 main Product lines for chartplotters/fish finders for fishermen. I will also help explain Garmin's product naming convention which can be very confusing if you don't understand how they work.
Garmin Product Naming Conventions Explained: Understanding how Garmin does their product naming convention is important to make you are are purchasing exactly what you want when shopping for this product from other online retailers. Take the Garmin UHD 73SV for example. Using the Chart below, this means the "UHD 73SV" unit is from the UHD line, is a 7" screen model, is loaded with US LakeVu g3 mapping, and includes a transducer that supports Traditional, ClearVu, & SideVu Sonar.
Values & What they Represents
First #
(4,6,7,9) = Screen Size in inches
Second #

(2-5) = Charts & Maps Selection

2= Worldwide Basemap

3 = US LakeVu

4 = BlueChart G3

5 = Canada LakeVu
Sonar Type
CV = clearVU and Traditional Chirp.

SV = ClearVu, Traditional, & SideVu
The Garmin Plus, UHD, & Ultra Comparison Chart.
---
Plus Series

(discontinued)

UHD
Plus
Screen Size (In.)
4/6/7/9
4/6/7/9
10/12
Internal GPS Hz
5Hz
5Hz
10Hz
MicroSD
1 SD slot
1 SD slot
2 SD slot
Network/Panoptix Ports
1
1
2
UHD Sonar
N/A
Yes
Yes
Panoptix LiveScope Support
N/A
Yes
Yes
Sounder Output
500W
500W
600W
Pricing Starts at
$350

(discontinued)

$350/$750
$1299
The Best Way I can describe the differences in the models is the following:
the UHD is the next generation of Echomap PLUS series units which is why they discontinued the Plus product line. They took the design from the PLUS series and added in built in UHD sonar and includes the GT54 UHD transducer. The Plus Series of units has been started to be discontinued as the UHD smaller size units are their replacement. The Touch Screen assist is also only available on the 7" & 9" model. In fact the Echomap Plus series is no longer even shown on the Garmin Website.
The UHD sonar for the UHD line is only supported on the 7" or 9" model, as such it only make the most sense to get a 7" model at least in my opinion. This is also why the Pricing is listed at $350 for those models without UHD sonar support even though they are part of the UHD line while the 7" and 9" model do have support for that UHD sonar. 2) The Ultra is their newest line and thus has the most feature support. The Ultra series also is tailored for more high end customers as the screen sizes are only available in the 10" and 12" variety. The Ultra series units support Panoptix LiveScope LVS12 sonar without the need for the black box, and any other Panoptix LiveScope system or sonar pieces.
Compatibility & Support for the Garmin Force Trolling Motor: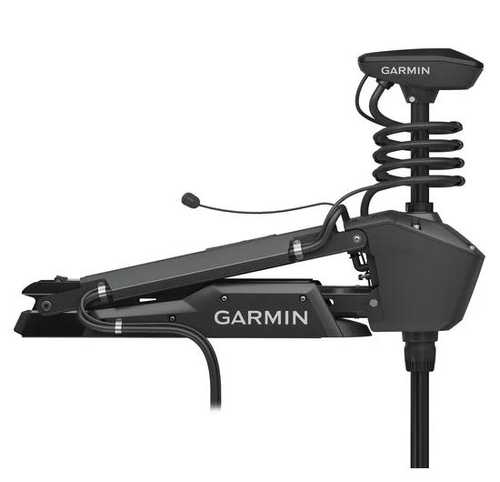 If you are interested in the Garmin Force Trolling Motor I recommend checking out our in detail review of the product here. TopFishingNetwork Garmin Force Trolling Motor Review What is great about the UHD 7" or 9" models is that they also compatible with the Garmin Force Trolling Motor. It is great to see some Chartplotter & Fishfinder options that are under $1000. The UHD 7" model is the lowest cost unit that will work with the Garmin Force Trolling Motor.
Product Review & Analysis Opinion: Overall I think the value of this Garmin UHD 73sv, 73cv, 93cv, 93sv is great deal. It is a lowest Price unit you are get that will be compatible with something as new as the Garmin Force Trolling motor & the LiveScope PanOptix. It allows for great customization of display screens, and is even touch screen.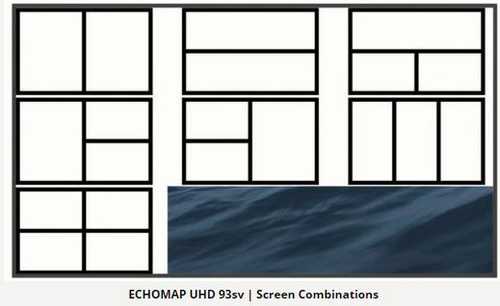 While not a big improvement over the Echomap Plus series, this UHD succeeds a very successful line to products with new added hardware support for Garmin's new sonars. While there are some "nicer larger" units available in the Ultra Series, I find the differences to be minimal. I don't feel like the different in product justifies the difference in pricing. I would rather save that couple of $100s and spend it on other fishing gear and lures instead. These 7" and 9" models fall right in the middle of the pack and provide a best of both worlds: support for the latest sonar technology while still keeping the price tag down where possible. Garmin's product support as a whole has received very high remarks. Especially over Lowrance who outsources their product support/warranty and Humminbird. We @ TopFishingNetwork have been using Garmin chartplotters/fishfinders for over 8 years and have never had an issue with a single product. I think that speaks volumes to their reliability and longevity. During this 8 year period, we also tried 1 Lowrance Elite and 1 Humminbird Helix product for comparison. The GPS tracking while on the water has been extremely accurate and the included LakeVu Maps has been greatly helpful whenever fishing a new body of water. Even when we travel to small local lakes we find that they are already mapped and included on the LakeVu maps which makes finding fish on the new lake much easier. The Custom sonar view configurations and programmable buttons on the home screen make switching views quick and convenient.
Why I prefer Garmin Fishfinder over Humminbird.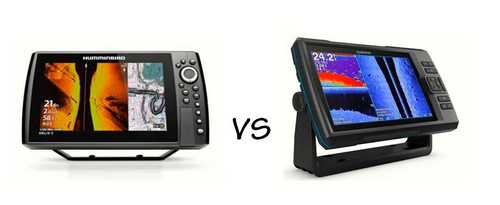 When I was doing countless hours of product comparison and release, I found the hardware specs of Humminbird and Garmin to be equal in 95% of their specs. Every Brand (Garmin, Humminbird, Lowrance) all use the same sonar frequencies but name them differently to confuse buyers. The Garmin units are cheaper while performing with the same hardware and have excellent product reviews and customer service. I fished with the Helix9 which retails at $900 which isn't even a touchscreen. The Solix10, the cheapest Solix, is $2200 which is too hard to justify when comparing with a $900 unit from Garmin.
Liked this article? Share it: