All review...
---
Best Fishing Backpacks of 2021
Posted by Andrew Law (5/11/2021)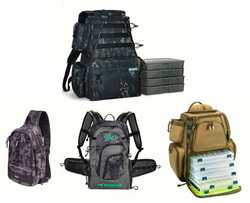 A fishing backpack is important for keeping all of your fishing lures and equipment organized and close at hand as you fish. That includes both bank fishing and fishing from a boat. While some people opt to use a regular backpack for this, It will be worth investing in one specifically designed for fishing. These bags will protect your fishing gear, keep everything organized, and save you time by giving you direct and easy access to your lures, fishing poles, & fishing tools.
We will highlight the top features of 4 of the most popular and highly rated fishing backpacks as well as analyze & expose their flaws/drawbacks as well. We will have links to all of these products at the end of the article!
Rodeel Fishing Tackle Backpack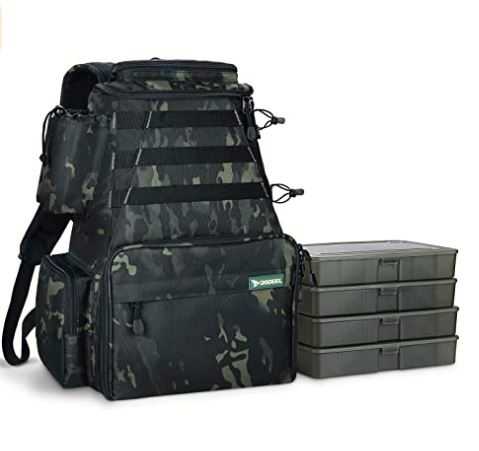 PROS:
2 rod holders that allows rods to be strapped to the side of the bag.
includes 4 tackle boxes that are accessible from the outside and can be kept flat.
side pocket slot that holds 2.6" water bottle
strong rigid base with 4 rubber feet to keep the bag clean and dry off the ground.
made of 600D polyester material.
tool mounting points on the outside of the bag for easy tool access.
2 Color Choices (Army Camo, & Black)
86% 5-star review. 96% 4+ star review.
CONS:
The 1-star reviews (1%) mention missing tackle boxes& arriving damaged. Both of these are likely unlikely rare situations and can be (easily remedied by replacement).
This is our pick for best overall fishing bag / backpack because of the features its features, as well its overall size and included designs about holding various fishing aspects(rods, tackle boxes, tools). It is also pretty reasonably priced considering it comes with 4 tackle boxes as well. The 1 star reviews point out no problems in quality which is rare and a very good sign. Being able to keep your tackle boxes flat is a very overlooked but very nice feature to have. This is a great priced item ($70) considering its value!
Piscifun Fishing Tackle Backpack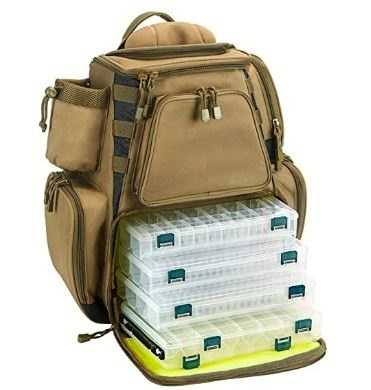 PROS:
large capacity bag with 11 separate compartments that can be further divided into 18 smaller areas.
includes 4 tackle boxes that are accessible from front of bag allowing for flat storage of lures.
water resistant 1200D polyester
includes separate protective rain cover for additional water protection
has rubber plastic feet to keep bottom of bag clean and off water
adjustable main compartment for customizable size
hard molded sunglasses case for polarized sunglasses
waterproof internal pocket for storing valuables(wallet, phone)
3 color choices (Tan,Black,Digital Camo)
86% 5-star review. 96% 4+ star review.
CONS:
Most of the 1-star reviews(1% of reviews) seem to complain about the tackle storage boxes that are provided with the backpack. They are long & narrow and are awkward for fitting fishing baits. There were a few reviews as always that mentioned quality issues.
One thing this bag has going for it over the Rodeel backpack discussed earlier is the hard molded sunglasses case built into it. If you know you are going to be in highly wet fishing conditions, maybe the seperate protectice rain cover is worth the extra money. One main reason why this bag isn't our 1st choice is the price difference. This bag costs about $30 more than the Rodeel and has very few major differences. I would rather save that money to buy more fishing lures! This bag has 3 decent color choices which is nice. I really like the Tan color as this is rarer nicer color not as readily available. I could justify paying a little bit more because of the color choices!
KastKing Fishing Tackle Backpack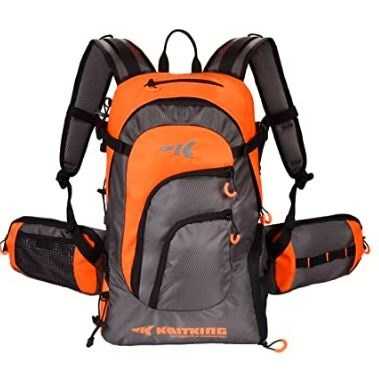 PROS:
made with 420D nylon with hydrophobic coating to keep moisture out.
Fits up to 4 3600 size utility boxes. NOT INCLUDED.
2 color options
86% 5-star review.
CONS:
The 1-star reviews(2%) seem to all relate to the zippers, and the poor stitching.
This backpack does have some of the design features for a fishing bag, I think the lack of having the fishing tackle boxes sit flat in the bottom of the bag is a oversight that the other bags can handle quite well. Also the method for which the fishing rods are held are not properly shown in a convincing enough manner for me to choose this bag considering it is in the same price range. It also does not include any tackle boxes like some of the other options in this article. For the price of $70, I think the the other competition beats this. If this was say $40, I would consider buying this one instead. It just doesn't have enough to warrant to to choice this one over the competition.
PLUSINNO Fishing Tackle Backpack Storage Bag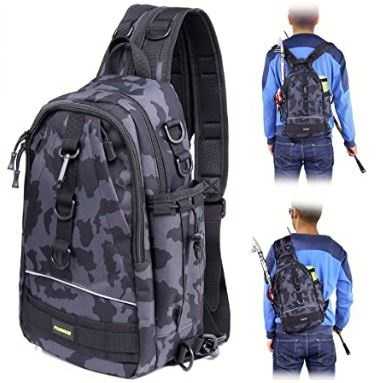 PROS:
water resistant
pocket for fishing tools(i.e. fishing pliers)
Side bottle pocket
Rod belt on the side can hold 1 rod.
measures 16.5" x 11.8" x 5.5".
comes in 7 different colors!
79% 5-star review. 92% 4+ star review.
CONS:
doesn't have included accessible tackle box compartment.
smaller bag might not be enough space to fit all of your fishing lure boxes and tools
advertised as a backpack for various things.(hiking, biking, fishing, camping, vacation, etc) Not specially designed for fishing.
The 1-star reviews (2%) they mention how small it is and its lack of ability to hold much of anything.
For me, I see this bag being too small for a bank fisherman or a day out on a boat. You would rather have extra space in your bag for your water bottle, fishing gear, extra clothing be an option than having to worry about carrying a fishing bag and multiple other things that wouldn't fit in the bag as well. I think small fishing bags like this one just miss the mark. I think this bag is popular for its small size but that doesnt fit well into a bank fisherman's needs even though it might work well for other outdoor activities.
Conclusion: As a bank fisherman, I think being able to carry everything in 1 backpack together is very important as you will be moving around a lot. Having access to your tackle boxes while storing them flat, keeping everything organized, and being large enough to store extra items are well worth spending the money for a fishing designed backpack.
Liked this article? Share it: