All article...
---
How Fishing Lure Retrievers will save you money $$$
Posted by Andrew Law (5/3/2021)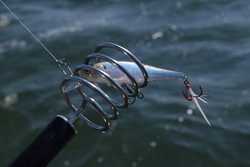 Fishing Lure Retrievers are sometimes foreign concepts to fishermen but this often overlooked tool could save you $100s of dollars in fishing lures. This is a tool that when your fishing lure gets snagged in the water, can help you free your bait even 50 feet down.
If you are a seasoned fisherman, you know how unfortunately snagging and breaking off lures are more common than we would like them to be. Crankbaits especially get hung up a lot because of their double treble hook design, but this is also part of why they are so effective at catching fish.
There are definitely been times when I was too afraid to lose a lure that I just never fished it. It just sat in the box and I admired it for its beauty instead of fishing with it.
What types of lure retrievers are there?
There are a couple of different designs all created to serve the same purpose. I would say there are 2 main types, a weighted knocker and a rod retriever.
The 1st design, the weighted knocker rides down your fishing line to the stuck lure and banks on the hope that with their heavy weight, their sheer knocking power will be enough to free your lure from the snag. What is great about these types of lure retrievers is they are not limited in reach by anything more than the rope they are attached to.
"The Hound Dog" product is one of the most popular online for a reason. It works. It is a 8 oz weight essentially for knocking your lures free. This particular model doesn't come with a rope attached but can be easily attached to and string or rope or even heavy duty fishing line(65lb test or more).
One variation with this model would be the addition of chains or cords on the end of the knocker so that it has the potential to free it just with the initial contact but also with the device chains hooking into a treble hook for example allowing you then pull and use brute force to pull it free.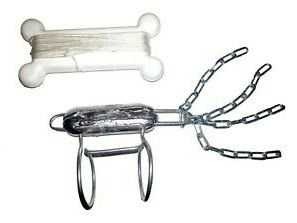 An example of this kind of lure retriever would be the "Daiwa Lure Catcher with reel and 45' cord". This version is one with the chains on the end of the knocker and is great because it already comes with 45' of rope.
The Lure retriever ROD is exactly what is sounds like. It is a long extendable metal rod that can reach 12-18 ft and has a metal coil on the end of it. It functions by having the metal coil follow your line into the water and use the rod as a poke pole. The most common brands for this are Frabill and Dotline.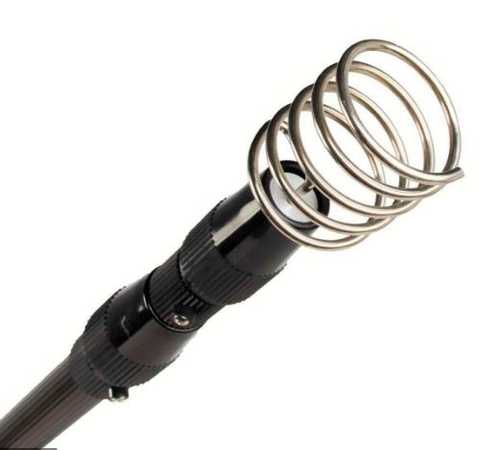 which Lure Retriever would you recommend for bank fishing?
For bank fishing , I think the Frabill Lure Retriever Rod is the no brainer choice. The weighted knocker option doesn't work as well when fishing from shore as the angle doesn't allow for the weighted knocker to achieve enough speed to reach the lure with enough force to knock it free. Also when bank fishing, most of the time, the lure will get stuck within the 15" of the bank. The Rod lure retriever also gives your much more control and power as it is a complete metal rod that would allow you be much more aggressive with trying to free up your bait.
The Daiwa & Hound Dog lure knockers are worth the money if you are fishing steep banks from shore or if you are boat fishing.
Pricing & Money thoughts:
While the Lure Retriever Rod will run you around $35-$40 if you think about the lure retriever as an investment, it will definitely save more money in the long run than if you didn't have one at all.
We all know fishing lures can be expensive. Think about the cost potentials here, 1 hard bait lure like a crankbait can run you on average around $8. These hard baits can even run up to $25 for some, like a Megabass vision 110 for example. So if this thing can help you save a few lures, you are looking at $100s of dollars in savings potentially!
Yes it is something else you will need to carry or bring along with you when fishing, but if you plan on sticking to 1 general area when bank fishing it makes obvious sense to have one with you. I have personally saved dozens of crankbaits, spinnerbaits, drop shots, jerkbaits, and more crankbaits. I now always carry one when bank fishing or fishing from a boat.
Overall, I think all of these lure retrievers are a good investment and will easily pay for themselves over time. Go purchase one with the links below. Good luck fishing!
Liked this article? Share it: