All article...
---
Key Factors Affect Bass Fishing
Posted by Sam Law (2/22/2023)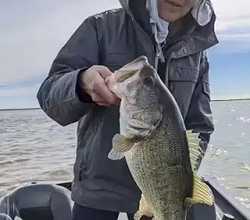 There are several factors that can affect bass fishing, including:
Weather: The weather plays a crucial role in bass fishing. Changes in weather patterns such as temperature, barometric pressure, wind, and precipitation can all impact the behavior and feeding patterns of bass. For example, bass tend to be more active and feed more aggressively in warm weather, while they may become more lethargic in cold weather.
Water temperature: Water temperature is another important factor that can affect bass behavior. Bass tend to be more active in warmer water and less active in colder water. As the water temperature changes, bass may move to different depths or areas of a body of water to find their preferred temperature.
Water clarity: The clarity of the water can also impact bass fishing. In clear water, bass may be more cautious and difficult to catch, while in murky water, they may be more aggressive and easier to catch. The clarity of the water can be affected by factors such as weather, water flow, and human activities.
Habitat and cover: Bass tend to congregate in areas with specific habitat and cover, such as weed beds, rocks, logs, and other underwater structures. Changes to these habitats and covers can affect bass behavior and feeding patterns. Human activities such as dredging, shoreline development, and pollution can also impact the quality of bass habitat.
Fishing pressure: The amount of fishing pressure in an area can also affect bass behavior. Overfishing can make the fish more wary and difficult to catch. It's important to practice responsible fishing and follow local fishing regulations to maintain healthy bass populations.
Overall, understanding these factors and how they interact with each other can help anglers improve their chances of a successful bass fishing trip.
Liked this article? Share it: