All article...
---
How to: Bank Fishing for bass
Posted by Andrew Law (4/22/2021)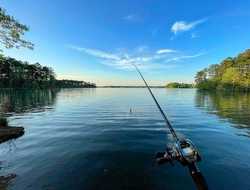 As someone learning how to fish for bass, you will be doing a lot of bank fishing as it is unlikely you will have access to boat. Just because you are fishing from the bank, doesn't mean you can't catch just as many fish. In this "How To" article I will tell you everything you need to know to successfully catch bass bank fishing.
While a fishing boat does usually give people the opportunity to fish more spots quicker, depending on the pond or lake, fishing from the bank can actually give you an advantage by allowing you to access spots that boats can reach. It also allows you to approach a spot much quieter as to not spook any nearby fish.
Where should I start: Evaluating the terrain of the pond or lake is important as you will want to try the higher percentage areas first before other and to save on time if you are working with limited time to fish. (Time can fly by quickly when fishing!) Use google maps satellite imaging to help you better understand the shape of the pond/lake and where you might like to try fishing first.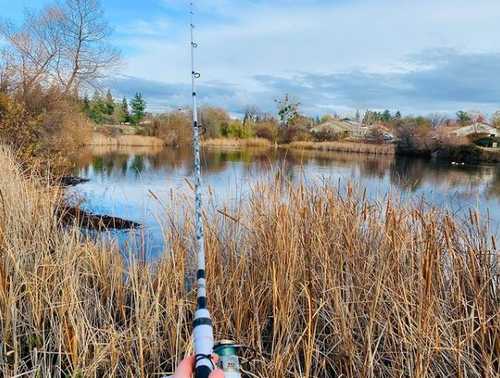 Look for manmade structure that that provides something different for the bass to hide around. This includes, Culverts, Dams, water fountains, docks, etc.
Look for transitions in terrain, example a rocky bank that turns into a smooth bottom.
Look for healthy green vegetation that bass can use to ambush prey from
If you know it is a highly pressured lake/pond try going to a section of the water that is hard to access. Maybe you have to climb through some brush to get to a spot, or you have to walk all the way to the other side of the lake along a sloped rocky bank. Finding a more secluded fishing spot increases the fun and atmosphere that is fishing.
Rock ledges or rocky bottoms are great places to fish for bass as bass are continually searching those areas for crawfish that hide in the rock crevices. Also because of the natural warming effect of the rocks from sunlight, they prefer being near that warmer water. Bait and minnows will congregate near the rocks as they use the rocks as a means of protection and also for a source of food in the form of algae.
What to bring: It is important to pack properly for a bank fishing adventure as you will be walking a decent amount to find the best spots and you don't want to be walking back and forth just to retrieve your gear. As for Fishing rods, I would ideally bring 2 rods. I have found that bringing more than this just ends up being more of a hassle than anything else. We only have 2 hands and with all the moving around you will be doing to cover water, it is best to be able to move around quickly and easily without having to hold too much unnecessary stuff. 1 baitcaster with 15 lb fluorocarbon line on a medium fast action 6'6" rod for everything from spinnerbaits, to crankbaits, to jigs. For my second rod, I would bring a spinning rod with 8 lb test fluorocarbon for more finesse presentations like a dropshot or weightless wacky rig stick bait.
I understand as a new bass fisherman it is not likely that you will have access to 2 rods from the beginning. 1 rod is perfectly normally as well. Make use of 12 lb test on either a baitcaster or spinning rod and utilize a snap swivel so you can quickly change between lures as needed. As your fishing knowledge and technique grows, then you can utilize 2 rods and more.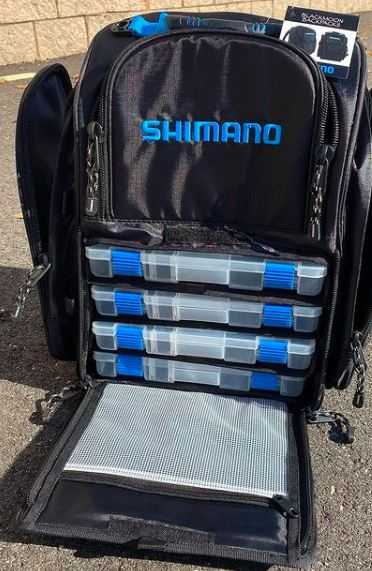 I would ideally recommend a small soft tackle bag or backpack with 3 large plastic lure boxes. I would use 1 for terminal tackle, including EWG hooks, drop shot weights and hooks, splitshot weights, bullet weights for texas rigs, etc. The other 2 boxes you can fill with various types of soft plastics and hard baits that you think will be a right fit for the fishing environment. The lures you will end up using may change completely from pond to pond or lake to lake. Each body of water's complexion and makeup will greatly change which lures you will end up using. In the Spring and fall focus on shallow water moving baits. Jigs, shallow water crankbaits, spinnerbaits, etc. In the hotter summer months, focus more on deep water presentations like jigs, and drop shots. In the bag I would also be sure to bring some fishing pliers and line cutters as well.
If you want to know more about which baits & colors you are use: check out some of our other articles that go into detail about these topics. Feel free to comment down below with any questions or things that worked well for you that you learned from this article!
5 Best Bass Lures and Baits:https://topfishingnetwork.com/best-5-bass-fishing-lures-and-baits
Liked this article? Share it: