All article...
---
Beginner Fisherman's Guide to Bass Fishing Rods
Posted by Andrew Law (4/21/2021)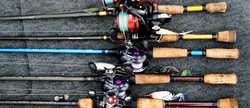 There are 100's of bass fishing rods out there, so knowing which rod is the right for beginning fisherman is important. You wouldn't want to spend $100s on something you don't really need. This article will detail and tell you exactly what you need to know to be a master of fishing rod knowledge.
Fishing rod Power & Action explained
When talking about a fishing rod, it comes down to two terms, power and action. For starters, no one single rod is going to be able to handle all baits and techniques but finding a good middle ground will allow you to handle a major of baits well.
A Rod's power describes how much resistance is built into it when being bent. This "power" is described with terms like ultra-light, medium, medium-heavy, or heavy. These power descriptions are often abbreviated. "MH" for example stands for medium-heavy action. Lighter action rods are usually for lights lures while heavy action rods need that backbone built into the rod to be able to exert enough action on the heavy lure. On most rods, you will see a lure weight range on which it can handle. Some rods will even be noted to be for a specific lure technique such a for a jig, a swimbait, or a crankbait. While they are specifically designed for a certain bait, that doesn't necessarily mean it wont work for other techniques as long as the lure falls closely in terms of fishing presentation and lure weight.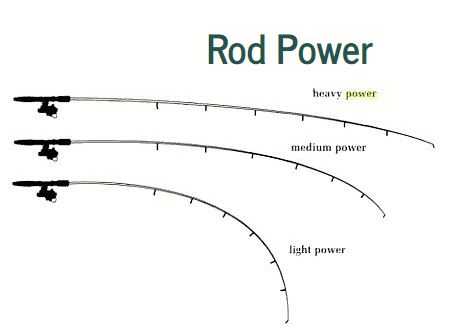 A Rod's action is a terms that is used to describe where a rod starts to bend when under stress. A fast action rod is synonymous with having the bend happen mostly in the 1/3 of the rod. A medium action means the bend starts about halfway down while a light action will mean most of the rod will bend. This is an important aspect to note when fishing because the less bend a rod has, the better you can feel when a fish is biting. The tradeoff with stiffer rods however is that they don't cast as well.
Pro Tip: While there is this "standard" of naming convention when it comes to fishing rods actions, avid fisherman will always tell you that no 2 brand "actions" are the same. A medium-heavy action rod of brand #1 might be the same a medium action rod for brand #2.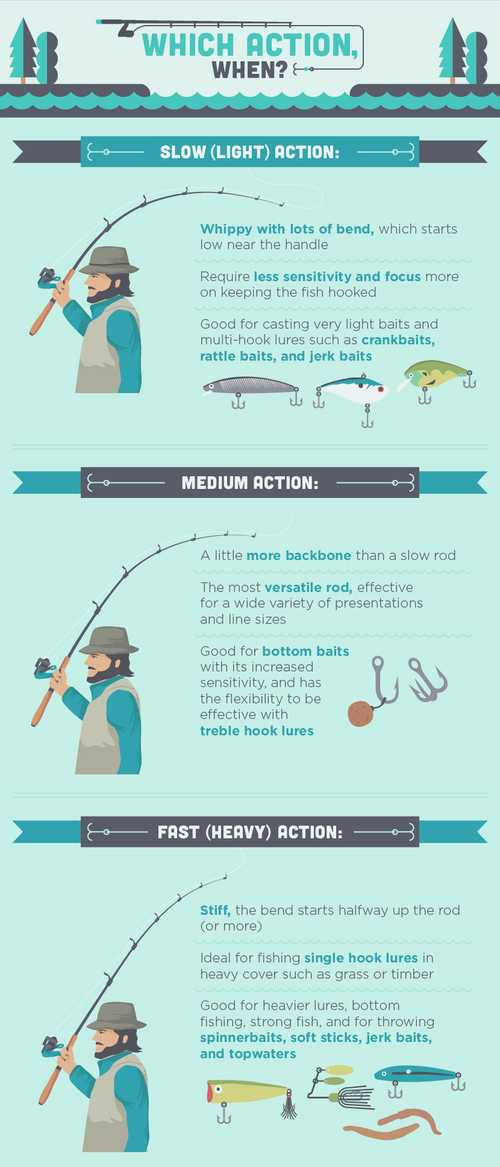 Rod construction composition & Features
A Rod's Length is also something to consider because there will be a wide range of lengths available. For the most part rod length will vary as the action and power changes, so focus on the action and power as 1st priority and the ability to choose the length of that rod as secondary. Short rods are great for fishing in tight quarters which is pretty common for bank fishing. Shorter rods do cast shorter distances while longer rods all you to whip that bait further out. Shorter rods are also more preferable for kayak fisherman because it saves space and is easy to handle while fishing sitting down.
Rods are most commonly constructed with graphite or fiberglass or a combination of both. and have been widely in use in the 70's by Fenwick. approximately 80% of the rods on the market will be of primarily graphite construction and this is what you will be using most of the time. There are other materials that rods can be made out of like fiberglass which are typically known for being softer rods which are great for crankbait fishing. Many fisherman prefer glass rods when fishing crankbaits because a slow action helps ensure a good hookset.
There is not much to worry about when it comes to the guides on the rods. I don't see much of a competitive or functional difference in guides that would sway you from buying 1 rod over another because of a difference in the guides.
#1 Rod I recommend to start with
A 6ft Medium power, Fast Action Spinning rod.
This kind of rod will allow you to handle most of the common beginner tactics with ease. Drop-shoting, texas rigs, small jigs, spinnerbaits, chatterbaits, an even some top water lures.
A spinning reel is the start choice to start with as it is easier to use than a baitcaster and will be a little bit more forgiving as your learn your casting technique. We will discuss reels in its own article.
Final Thoughts - Conclusion
I believe that focusing more on getting the right action, power and type of rod is much more important than the brand of rod you get when 1st starting out. There is no need to go out and get a bunch of specialty rods for each type of lure you will be throwing out. Start with the recommended Medium power fast action spinning rod and as your expertise grows, you can branch out and get a feel for different types of rods and reels.
Liked this article? Share it: