All article...
---
Senko Bass Fishing
Posted by Andrew Law (5/25/2023)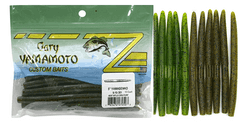 Senkos or yamamoto senkos are world reknown. They are by far the most popular bass soft plastic worm. They can be fished so many different ways and are clearly a very effective bait as it has proven it self for countless years. In this product review, I will share my experiences and insights on why Yamamoto Senkos have become my go-to choice for plastic worm bass fishing.
Versatile Design and Quality Construction: Yamamoto Senkos are known for their unique and versatile design. These soft plastic baits feature a straight body with a round profile and a tapered tail, mimicking the natural movement of live bait. The Senkos are crafted using high-quality materials, resulting in a soft yet durable construction that can withstand numerous strikes and multiple fish catches. The attention to detail and precision in manufacturing are evident, making them a reliable and consistent choice.
Unmatched Action and Sensitivity: The key attribute that sets Yamamoto Senkos apart is their unmatched action and sensitivity in the water. As soon as they hit the surface, the Senkos exhibit a subtle shimmying motion during the fall, imitating injured or dying prey. This seductive action triggers the predatory instincts of bass, often resulting in aggressive strikes. The Senkos also have excellent sensitivity, transmitting even the slightest vibrations and movements, allowing anglers to detect bites with precision.
Wide Range of Colors and Sizes: Yamamoto Senkos are available in an extensive range of colors and sizes, catering to various fishing conditions and angler preferences. Whether you prefer natural hues to match the local forage or vibrant shades to trigger reaction strikes, there is a Senko color for every situation. The different sizes, from the popular 5-inch to the smaller 3-inch and larger 7-inch variants, offer versatility to adapt to different fishing techniques and target sizes.
Rigging Options and Versatility: One of the reasons Yamamoto Senkos have become a favorite among anglers is their incredible versatility. They can be rigged in multiple ways, including Texas rigging, wacky rigging, weightless rigging, and more. This versatility allows anglers to adapt to different fishing scenarios, cover types, and water depths. Whether you're flipping heavy cover, fishing open water, or targeting suspended bass, the Senkos can be rigged accordingly to maximize success.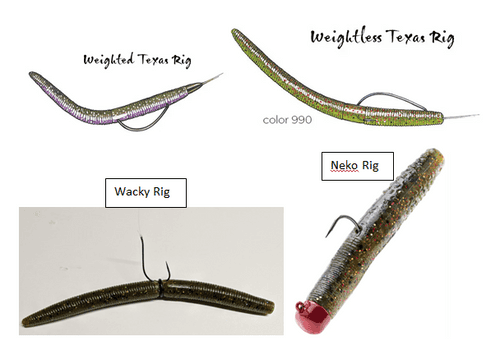 Durability and Cost-Effectiveness: Despite their soft construction, Yamamoto Senkos exhibit impressive durability. They can withstand multiple casts, strikes, and even the occasional snags without tearing easily. This durability ensures that you can fish with a single Senko for an extended period, making them cost-effective in the long run. Additionally, the Senkos are often sold in packs, providing great value for your investment.
Success and Reputation: Yamamoto Senkos have built a strong reputation among bass anglers for consistently producing excellent results. Countless tournament wins and personal success stories attest to the effectiveness of these baits. When conditions get tough and bass become finicky, the Senkos have a proven track record of enticing even the most reluctant bass to bite.
Conclusion: Yamamoto Senkos have rightfully earned their place as one of the most reliable and effective soft plastic baits for bass fishing. With their versatile design, unmatched action, wide range of colors and sizes, and proven success, they offer an exceptional angling experience. Whether you're a seasoned angler or a beginner, Yamamoto Senkos are a must-have bait in your tackle box. Their ability to consistently entice big bass ensures that your fishing trips will be filled with excitement and rewarding catches. This is definately a product you should always have some of them.
Liked this article? Share it: