All Q&A...
---
How do I find bass on a lake with no visible cover?
Posted by Andrew Law (4/25/2021)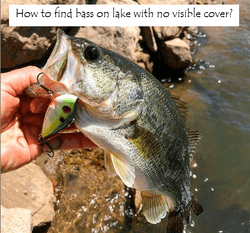 Since most fisherman on the banks will not have access to a fish-finder, finding underwater structure is what will be key. Look at the general contour of the bank and the composition of the ground that is visible from the shore. If the bank goes from steep to barely sloped, that is a good transition point you can fish. Shore topography will continue underwater. This means, onshore points will continue underwater just like onshore flats will continue underwater as well. If the bank is completely flat and smooth with little to no rocks on it, it not likely there is cover further into the water. A Rocky bottom is going to be better than a smooth and muddy bottom. This is because there is more food opportunities near the rocks than on muddy bare bottoms.
Fishing a bottom bouncing lure will tell you whether or not there is vegetation. If you snag and bring up some vegetation, analyze it and try to understand how tall it stands. Fish above the weedline or identify where the weedline ends and fish right along side it. You goal is to entice the fish that are sitting in the vegetation into biting.
Understanding where the cover in a lake is without having surface visual clues requires a fisherman to understand how on surface terrain translates into cover below the water. Keep an eye out for the clues we talked about on this article and you will have less problem finding them.
Liked this article? Share it: